Walking the talk, achieving goals
September 16, 2020

| Category: Alternative thinking

Much of my work as a management consultant and executive coach is about facilitating clients' thinking about where they want to get to; to enable them to reflect effectively, and make informed choices and decisions on the goals they want to set for themselves or their organisation.

On Friday, I had the unique opportunity to celebrate achieving a personal goal, three years in the making. My goal was to complete a Masters degree, having left school at 16 years old as an apprentice in the trades; there was an itch that I need to scratch. But, was I capable of academic study?

Three years continuous study into coaching and behavioural change, writing essays, then a Masters degree level research project, (entitled, "The Management Challenge" – it is Henley Business School after all!), provided significant and diverse learning opportunities. It was also rewarding to be able to connect academic learning to client needs in real life situations.

I'm a fan of the Growth Mindset, and the experiential learning and critical thinking provided in further education encourages the student to acquire something new about themselves and the study topic. It was only when I wrote the final chapters of the dissertation did I discover myself integrating these new skills.

My primary goal was to submit a robust and relevant piece of research and 20,000 word dissertation on time. Secondly, I have grasped the opportunity to cultivate new levels of academic thought which has already helped to enhance new professional skills. Having the ability to present a credible dissertation that contributes to the body of knowledge in educational leadership and culture change is a privilege, and one I hope to be able us to support people aspiring to higher performance in leadership

During the three years of working to achieve my goal, I encountered fluctuations in confidence and the moments of blind panic! I was completely unprepared for the level of fear that such an expansive research project would produce.

There were several moments during the management challenge where I experienced an intense 'fight or fly' response; and my 'stuckness' felt like an impenetrable wall. Amongst other things, this experience has resulted in giving me greater empathy with my professional clients and their challenges.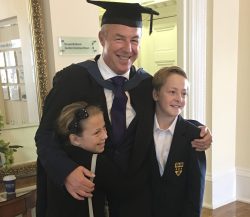 A final piece of learning is understanding the team around you. On many occasions, it was my cohort team members who would remind me of the image I had shared with them of my children and family coming to Graduation Day. Last Friday, 22nd September 2017, that most important goal was truly realised.
It's a cliché, perhaps because it's true; if I can do this, so can you!
Dirk Anthony MSc (Hons)